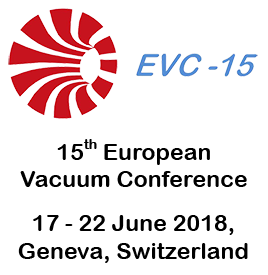 Opportunities
The EVC-15 Exhibitors Program offers companies the opportunity to rent a booth in the foyer area of the CICG. The foyer is strategically placed between the refreshment areas and the entrance to the conference auditorium. From Monday lunchtime until the close of proceedings on Wednesday afternoon, the EVC-15 Exhibition space offers companies an efficient place to
Promote brand awareness
Interface with attendees from the international vacuum community
Provide product demonstrations
Keep up to date with competitive products
We also offer an interesting spectrum of sponsorship opportunities that reflect your companies commitment to science and the international vacuum community.
Exhibition and Sponsorship Booking Form
Sponsors and Exhibitors are encouraged to use the digital booking form to apply.
If your browser supports forms, the various fields can be filled in the web page and the file saved to your local disk afterwards for printing and signing. Otherwise, download the file and fill in the fields using a PDF file reader, like Adobe Acrobat or Apple Preview.
Important Note
Although the CICG is closed between 19:00 and 7:00 (and monitored by security cameras), their equipment is under the sole responsibility of the exhibitors; insurance is the responsibility of the exhibitors and not of the conference organisers.
Floor Plan for Exhibitor Booths
The approximative floor plan for exhibitors is shown below. Clicking on the plan opens a larger view.