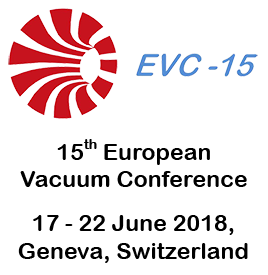 Welcome to Geneva
Surrounded by its magnificent natural landscape of lake and mountains and according to its tradition in science and international relations, the city of Geneva welcomes the participants to the European Vacuum Conference EVC-15 for an exciting and creative week, between June 17th and 22th, 2018.
EVC-15 will be organised by the Swiss Vacuum Society, swissvacuum, on behalf of IUVSTA, with support from CERN and the Geneva Convention Bureau for the logistics.

Come and celebrate with us, as this will be a special event. First, the European Vacuum Conference Series is 30 years old, as it was founded in 1988. Second, the International Union for Vacuum Science, Technique and Applications (IUVSTA) will start to celebrate its 60th anniversay in Geneva. A special symposium organised on Monday afternoon will celebrate these events.
Important dates
Registration is now closed
You will still be able to register for one or two single days at the desk, starting from Sunday 17th of June at 16:00. See conditions on the registration page.
Abstract submission is now closed
Abstract acceptance notification: 31 January 2018
Conference Venue
The conference will be held at the International Conference Centre, Geneva (CICG), a large renowned and versatile infrastructure, housing many international events. It is located close to the city centre, is easily accessible by public transportation and only 5 km away from the airport. More about access to CICG can be found here.
Topics
Applied Surface Science
Biointerfaces
Electronic Materials and Processing
Nanotechnology
Plasma Science and Technique
Surface Science and Engineering
Thin Films and Coatings
Vacuum Science and Technology
Vacuum in Accelerators
Technical Sessions
Keynote contributions, shorter specific lectures and poster sessions
An industry exhibition on the most recent instrumentation and equipment on the market
A dedicated excursion to CERN